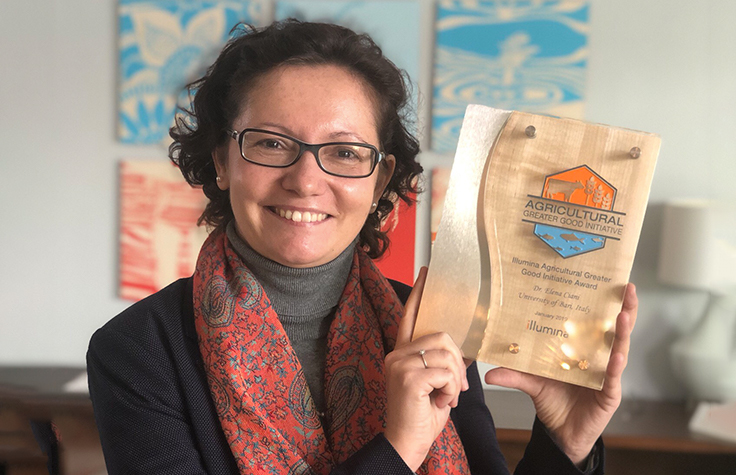 January 15, 2019
The winner of Illumina's eleventh annual Agricultural Greater Good Initiative grant was announced during the 2019 Plant & Animal Genome Conference (PAG) in San Diego. PAG brings together over 3,000 leading genetic scientists and researchers in plant and animal research. The grant, which was launched in 2011, spurs critically needed research that will increase the sustainability, productivity and nutritional density of agriculturally important crop and livestock species. Grant recipients receive donations of Illumina products to support their projects. This year's recipient is Dr. Elena Ciani of University Bari, Italy, representing the International Camel Consortium for Genetic Improvement and Conservation (ICC-GIC).

The ICC-GIC was established in 2015 to promote international collaboration among camel scientists and stakeholders, and it now counts more than 80 members from five continents. Since its establishment, the ICC-GIC has had an active role in educating young students and researchers on genome-wide data analysis approaches and tools. Its mission is to support scientists and professionals to collaborate and promote food security and the sustainable development of the camel sector.
In many parts of the world, camel farming plays a pivotal role in agriculture, where it is considered a multi-purpose animal with huge potential to benefit society. Humans have used camels for their wool, milk, meat, leather, and even its dung can be used for fuel. Camels have the ability to adapt to a variety of environments and to make efficient use of resources in arid areas; their numerous functions make them valuable allies in the current context of climate change and desertification.

To date, there is a lack of genealogical records and a lack of systematic phenotype recording and limited knowledge on camelid genetics.* Most of the research to date has been carried out in the camel genomics field by various camelid scientists, relying on small focused national grants. This grant will enable establishment of a comprehensive genomic camelid diversity dataset to assist in moving current research into applied camelid breeding and conservation programs.
"The ICC-GIC's innovative thinking to conduct the first ever whole genome sequencing diversity study on camelids is exciting and we look forward to supporting its efforts," said Lisa Eldridge, Associate Director of Agrigenomics at Illumina. "Illumina is dedicated to the overarching goal of understanding camelid genomic variation to support food security and sustainability initiatives."
"Winning the Agricultural Greater Good Initiative grant give us the opportunity to conduct much needed research on camels," said Faisal Almathen, Ph.D. from King Faisal University, Kingdom of Saudi Arabia and the Chairman of the ICC-GIC. "We can't thank Illumina enough for its support and giving us the chance to collaborate on the genetic conservation, management and improvement of camels."
"The timeliness of this award is significant because we just completed the chromosome-level assembly of the camel genome," said Pamela Burger Ph.D. from University of Veterinarian Medicine, Vienna, Austria. "Now with this grant we can progress to the identification of the variation inside the genome."
Learn more about the Illumina Agricultural Greater Good Initiative.
*Vyas et al., 2018; Nagy et al., 2017; Mibody et al., 2016; Almutairi et al., 2010; Al-Sobayil et al., 2006